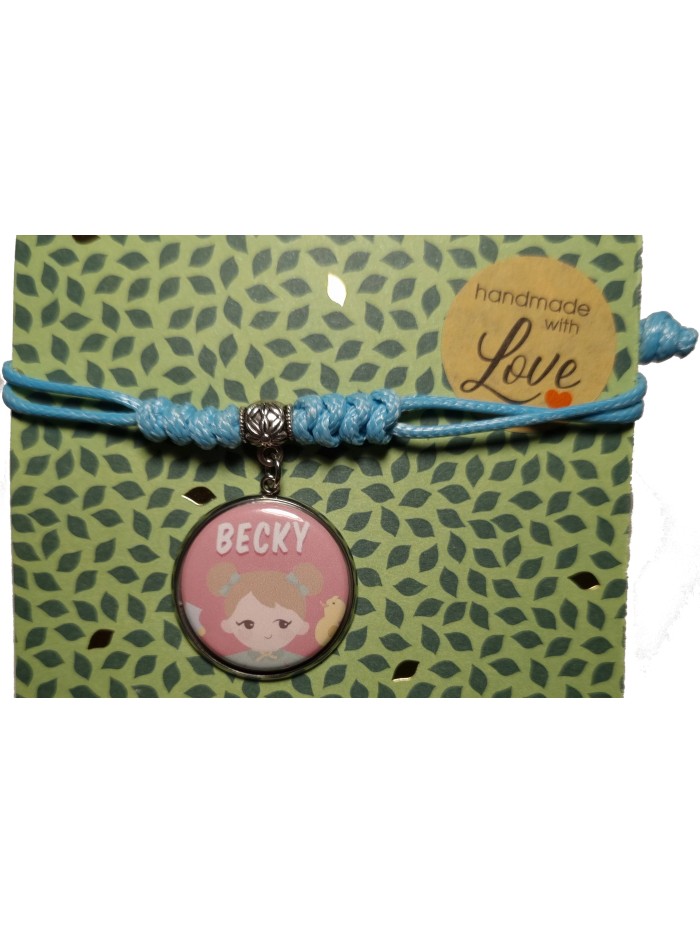  
Handmade Bracelets medallion - Discover the Magic of Becky, Iris, Hanna, and Abby!
Introduction:
Welcome to Sandra's Poppenkraam, where we proudly present our beautiful collection of handmade knuffelpop bracelets. Our unique bracelets are not only a stylish accessory but also an enchanting way to strengthen the bond between your child and their beloved knuffelpop. With the choice of four charming designs - Becky, Iris, Hanna, and Abby - these bracelets add an extra touch of playfulness to every day.
Possible to wrap/pack
We can wrap your order in gift wrap
Delivery in 3-4 days
We ship all orders with PostNL
100% satisfaction guarantee
We aim for 100% customer satisfaction
Handmade with Love:
Each bracelet in our collection is handcrafted by our skilled artisans. We use only the finest materials to ensure that each bracelet is of high quality and built to last. The loving craftsmanship and attention to detail make each bracelet unique and special.
Easy to Use:
Our knuffelpop bracelets are designed with the comfort of both children and parents in mind. They can be easily put on and taken off, allowing children to wear them effortlessly. No fuss with complicated closures, just pure enjoyment in wearing these beautiful bracelets.
A Perfect Match with Knuffelpop Hanna, Becky, Abby, or Iris:
These bracelets are not only adorable on their own, but they also perfectly complement our beloved knuffelpops - Hanna, Becky, Abby, or Iris. When your child wears this bracelet alongside their favorite knuffelpop, it creates an unforgettable and magical combination. It strengthens the bond between the child and the doll, making their playtime even more special.
Endless Magical Adventures:
With these bracelets by their side, children will be invited to let their imagination run wild and embark on endless magical adventures with their knuffelpops. From tea parties to princess adventures, the possibilities are endless, and the bracelet will be an essential companion during all those moments.
A Meaningful Gift:
Looking for a meaningful gift for a special child in your life? Our knuffelpop bracelets are a heartwarming present for birthdays, holidays, or any other special occasions. Watch the child's eyes light up with joy as they discover their new bracelet and become even more connected to their beloved knuffelpop.
Explore our collection of knuffelpop bracelets and let your child experience the magic of Becky, Iris, Hanna, and Abby. With these handmade bracelets, their playtime will become even more special and unforgettable!